Post your review clicking here
Anna
24/09/12
Our 2-week August stay at Villa Santa Lucia was a perfect family vacation. My husband and I brought our 8-month-old twin boys and are so happy we did.
As other reviewers have noted, Janine and Roderick went out of their way to make sure we were comfortable, had everything we needed, and aware of all of the amazing things to do and see in the region. The villa itself is beautiful, surrounded by a gorgeous and carefully tended garden, and absolutely stunning views of Chianti. The property is flanked by two of the region's wineries - perfect for taking a short walk to grab a bottle or two to enjoy with dinner.
We spent our days taking trips to Volpaia, Castellina in Chianti, Greve, and Radda, among other towns. Panzano itself is lovely, with great options for home cooking, from fresh fish and vegetables, to the famous butcher and retaurateur, Dario, and a decent supermarket.
We took a few day trips to Florence and Siena with ease.
On top of all that, we were treated to figs, grapes, and olive oil all from Janine's garden. The place is beautiful and has everything you need - even for infants! We were more than comfortable, even when joined by our friends, second family of four, for our second week. and you couldn't ask for better hosts. They give you plenty of privacy, but are generously available and very knowledgeable should you need anything.
Highly recommended!
KeyWest 2011 (New York City)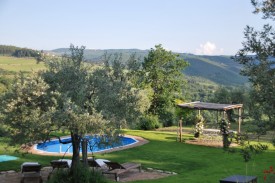 04/07/12
This house was everything we could have hoped for and more! The location in the adorable town of Panzano was wonderful, the bedrooms and living spaces were incredibly comfortable (the fireplace in the sitting room is amazing), and the views are out of this world. After traveling to various cities in Tuscany during the day, we found comfort every night upon returning to this special corner of Italy. Enough cannot be said about the kindness of the owner, Janine, and her family. They went above and beyond in making us feel comfortable and welcome. We look forward to returning some day!
Simon and Ruth (Hong Kong/ Australia)
07/09/11
Janine, Roderick and Olivia, The last six days have been sensational, waking up to lavender scent and spectacular views over the surrounding country side. Your quaint villa exceeded our expectations and your warm hospitality made our stay even more enjoyable. Each of your recommendations were Perfect and would have to say that Volpaia was one of our favourite spots, particularly Baruzzi and La Bottega. That takes nothing away from walking up to Panzano each morning for our daily espresso and croissant, not to mention the wonderful local characters. Thank you again for a wonderful week and would certainly recommend your beautiful villa to all our friends.
Philippe
04/23/11
un petit coin de paradis, en bordure d''un des plus beau village du Chianti. une très belle maison, rénovée avec gout, remplie de meubles chinés, un jardin bien entretenu et une vue imprenable sur les vignes et les oliviers. Propriétaires charmants et discrets. nous reviendrons

Daryl and Chris (Sydney - Australia)
05/15/10
Hi Janine, you will remember that Chris and I stayed with you for one week back in May. We are now back home in Australia after a fabulous 6 weeks in Italy. Our stay at "Santa Lucia" was a short but memorable part of our holiday, and we would like to congratulate you on the fabulous job you have done creating such a comfortable beautiful house, and also to thank you for the invaluable help you gave us during our stay. We wish you all the best for a sucessfull summer holiday season. Many thanks.

Janet and David
07/24/10
Hello, Janine! We still remember our stay with you in July with great pleasure. I have a little airtight pot of lavender flowers from your garden and most days I open it briefly and have a 'fix' of the perfume. Just in case you have had so many visitors over the summer that you cannot remember us here is a photo taken at your lovely pool. We wish you a very Happy Christmas and a prosperous and enjoyable New Year. Best Wishes, Janet and David

Simona and Jjosef
09/04/10
Dear Janine, Once more many thanks for possibility to stay for these beautiful weeks in your magic House. Yesterday we arrived back home in Roudnice nad Labem – so is our small city near Praga called. We do miss sitting in your lovely Garden and listen Piano Cocertos ( I think that on your CD's are one or two from production Czech Author Antonin Dvorak) and on 9 hear the bells( Panzano's towerclock) over vineyards. I can't forget it. With best wishes Simona and Josef

kristy and Niels
07/03/10

Dear Janine and Roderick Thank you for a great time at your place in Toscany. We really enjoyed the days we had at your wonderful home. If you are planning to go to Tallinn some day, please let us know. Lot's of warm regards Kristy and Niels (+ baby : - )